Our Dhoon High Five
Collaboration, Determination, Independence, Curiosity, Creativity.

At Dhoon School we are committed to helping our children become curious, lifelong learners and use our 'Dhoon High Five' to promote the attitudes, skills and dispositions we believe are important for success in this. The 'High Five' are a set of qualities that we develop in all of our pupils that we know will serve them well on their learning journeys and into the future. Each Friday we host a 'High Five Assembly', a celebration of the week's learning, and certificates are presented to children who have consistently demonstrated a particular disposition(s) over the course of the week. We are sure that you will become familiar with the language of our 'High Five' during your child's time with us!

This curriculum allows us to provide excellent learning opportunities for children to fulfil the outcomes from the DESC's Essentials for Learning (E4L) curriculum which can be viewed on the DESC website.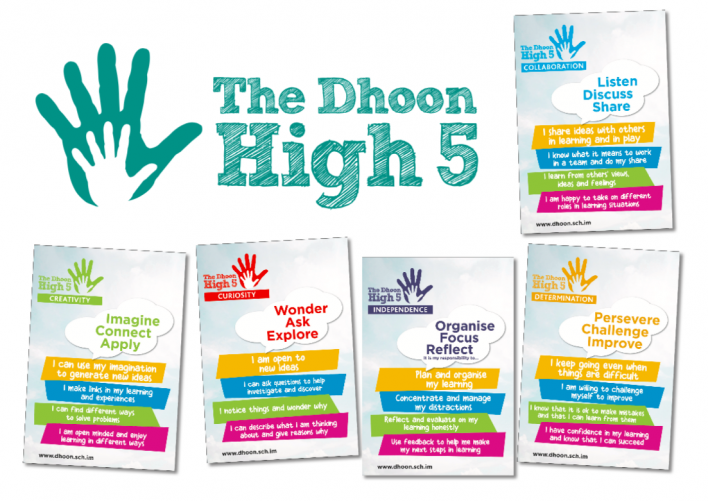 Download "The Dhoon High Five" here

Our Dhoon Values
Dhoon is a school built upon traditional values and we actively encourage and promote our own set of values (personal qualities) which underpin all aspects of school life. We are proud of our pupils and encourage them to see our values as mottos for life, guiding them to become responsible members of the community.
Our curriculum is flexible and is responsive to the needs of our children. Underpinned by our 'Curriculum Drivers', we provide a rich, varied and exciting curriculum, celebrating our unique local context as well as making wider world links, and the range of activities provided throughout the school enables our children to make real connections across all of their learning. 'Learning to Learn' is an important part of our approach and we support our children to understand how they learn best, to reflect on their progress and identify their next steps.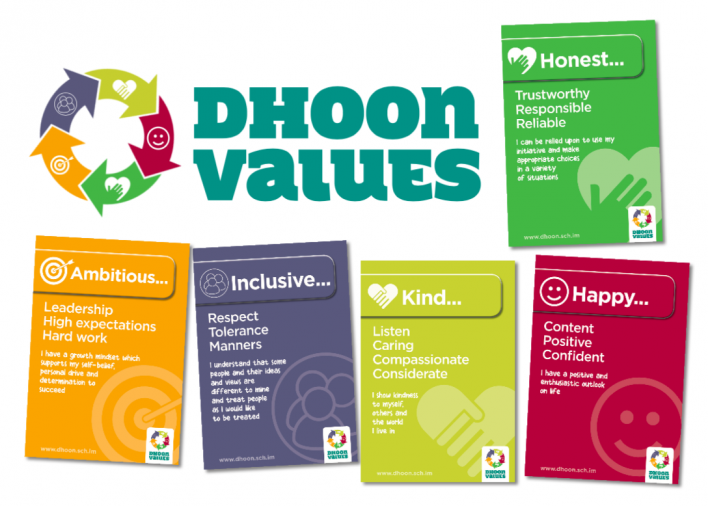 Download "The Dhoon Values" here

Our Dhoon Curriculum

At Dhoon School, we are committed to providing a rich, varied and exciting curriculum for all of our pupils. We offer a wide range of opportunities for children to learn in different ways, catering for a range of learning styles. This means that our pupils learn to work both independently and collaboratively, developing an understanding of themselves as learners and recognising the ways in which they learn most effectively.

Our curriculum is creative and innovative, with our team of talented staff able to deliver high quality teaching and learning through cross-curricular, theme based activities; an approach that our pupils find engaging and inspiring, thanks to the variety and range of different activities on offer, and which allows them to make connections between the different areas of learning.

Our curriculum also includes a commitment to helping our pupils learn to learn; we believe that children should develop an understanding of how they learn most effectively, reflect on their own progress and be involved in identifying their own 'next steps', thus developing the skills to be a successful learner for life.

Foundation Stage

Key Stage 1

Key Stage 2

Our Foundation Stage curriculum allows children to learn by exploring, talking about their learning, practising skills and being active.

It is important to us that your child is happy at school and from their first days with us in Reception, our children enjoy exciting, engaging learning experiences alongside their peers, enabling them to feel safe, secure and confident in their new environment.




A broad and balanced curriculum is provided in Key Stage One, with exciting and engaging learning opportunities taking place within the classroom environment, the outdoor learning spaces and beyond into the local environment. Throughout this phase, we aim to promote positive attitudes toward learning, making it fun, exciting and enjoyable and specific focus is given to phonics, reading, literacy and mathematics skills.






Throughout Key Stage Two we continue to provide a broad and balanced curriculum through our thematic approach, with regular, exciting opportunities for children to steer their own learning - 'Learning on Demand'. Carefully planned, quality teaching and learning activities promote a love of learning, celebrate high expectations and spark curiosity, creativity and determination.






KEY FEATURES:



Fun, child-centred activities allowing children to progress comfortably at their own pace

High quality teaching and learning experiences that promote curiosity and creativity

A learning environment rich in language and colour

Lots of opportunities for carefully planned practical activities

Making use of our superb outdoor learning facilities

Enabling children to foster positive relationships with their peers, staff and the wider school community

Happy, contented, confident children!

KEY FEATURES:



A vibrant, stimulating and language rich learning environment

'Curiosity hooks' to engage and inspire

Opportunities to learn through exploration, play and investigation

Quality time to build on knowledge through practical, interactive tasks

Daily Maths and Phonics sessions

Small group and whole class work

Individual and Guided Reading sessions to develop skills and promote a love of reading using a multi sensory approach

Thematic approach to help children make links in their learning

Celebration of our culture, language and heritage

Learning about the 'Wider World'

Development of a 'Growth Mindset' within a safe to fail environment

Keeping ourselves active and healthy

Learning takes determination but is fun and rewarding!

KEY FEATURES:



'Curiosity hooks' to engage and inspire

Vibrant, stimulating learning environments

Development of a 'Growth Mindset' with opportunities for children to direct their own learning, set themselves goals, fail well and challenge themselves

Teacher, self and peer-assessment

Daily phonics, spelling and handwriting sessions

Individual and Guided Reading sessions to develop skills and promote a love of reading

Development of writing composition strategies through modelling and supported practice

Sentence construction skills (including grammar) developed through extensive practice

A deeper understanding, confidence and competence in Mathematics through a 'Maths Mastery' approach

Regular times tables practice

A combination of formal teaching and collaborative learning activities

Challenge based learning

Celebration of our culture, language and heritage

Global Learning

Keeping ourselves active and healthy

Learning takes determination but is fun and rewarding!